BRYAN'S SUPER HAPPY FUN TIME EPK!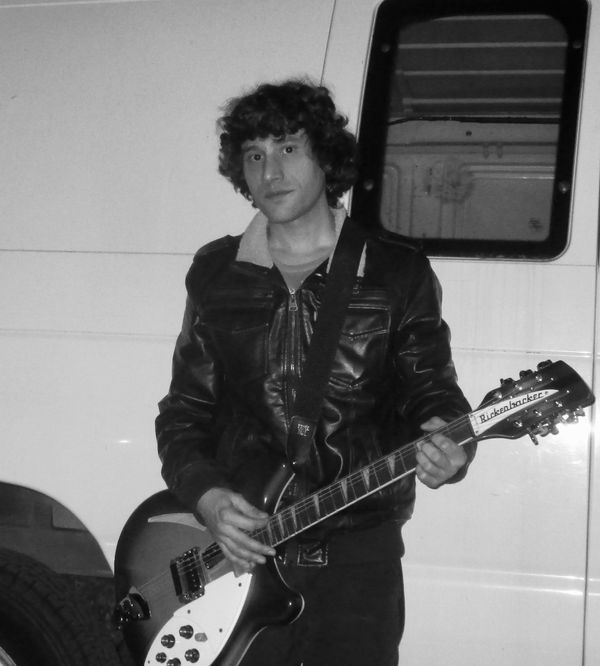 NOW BOOKING 2021 SUPER HAPPY FUN TIME 2 TOUR! 
"Imagine Nirvana and the Beatles had a child together who became an acoustic rock singer/songwriter: that's Bryan Bielanski! Although he is inspired by some of the rock greats like Tom Petty and REM, he has a distinct musical style and songs with lyrics that make you think deep thoughts and feel like you're really alive! This critically acclaimed globetrotting singer/songwriter has been touring the US and the world for the last 9 years, having played 45 of the United States and 19 different countries abroad in support of his multiple releases (including one release charting in the CMJ alternative college radio top 100).  Recording artist Bryan Bielanski hails from Charlotte, NC, he is full of fun energy, catchy songs and he is ready to entertain you!
Bryan Bielanski, front man of the legendary 90's underground alternative rock band Angwish is embarking on a new solo US tour in 2021. Critics have compared him to Bob Dylan, Tom Petty, the Violent Femmes and REM. His solo sets are comprised of acoustic versions of his original songs (13 full length albums worth) as well as a plethora of covers that can range from the Beatles and CCR to The Cars, Nirvana and everything in between (he's been referred to as a "human jukebox").
Bryan has played over 1000 shows in 45 of the 50 United States, 18 different countries on 3 continents, including major cities like New York, Los Angeles, Toronto, London, Berlin, Paris, Amsterdam, Vienna, Budapest, Brussels, Athens, Bangkok and Hong Kong. Other accomplishments include charting at # 89 on National College Radio in December 2016 with his album "United States of Angwish" (engineered by world famous punk legend Steve Albini of Big Black), played to an audience of over 100,000 in his hometown and won "Best Alternative Rock Band" at the 2016 Hollywood Music Media Awards.
If you're looking for a super happy fun time with good vibes you'll want to book Bryan Bielanski on his acoustic solo tour today!
Bio by David Conners from Ikarus Artists Commune
PRESS QUOTES
    "Bryan has so much passion in his music. The songs sound really great"  Scott Litt - Producer (REM, Nirvana)
    "It's as if Bryan's music is saying 'Top 40, Kiss My Ass!'" Kerry Molessa (Encore magazine, Wilmington, NC)
    "Anyone who listens to Bryan's songs is going to realize that this band is at the doorstep of something great"  Scott Homewood (Amps 11 magazine, Charlotte, NC)
    "East coast pop solo artist packs more hooks than a tackle box!"  Erika Boling (Metrospirit magazine, Augusta, GA)
    "Catchy as hell, the vocal melodies and guitar solos are sweetly delivered with an honest sense of urgency."  Gordon Lamb (Flagpole magazine, Athens, GA)
    "The new CD is full of punk attitude and energy played with a refreshing level of passion" Micah McLain (Southeast Performer magazine, Atlanta, GA)
    "It's loud, it's driving, but the music is also intelligent and musically coherent power pop with soul"  Woody Mitchell (Charlotte Observer daily periodical, Charlotte, NC)
Press Photos
0:00/2:46

0:00/3:44

0:00/2:02

0:00/2:24

0:00/3:03

0:00/4:31
COVERS REPERTOIRE (alphabetical by artist)
AMERICA –
All The Lonely People

BRYAN ADAMS--
Summer of '69

A-HA--
Take On Me

BADFINGER--
Come And Get It

BAY CITY ROLLERS-- 
Saturday Night
The Bump

THE BEACH BOYS-- 
Surfin' USA 
Do You Wanna Dance

THE BEATLES-- 
Please Please Me
Twist and Shout 
Misery
Anna
She Loves You 
I Want To Hold Your Hand 
Hard Day's Night 
I Should've Known Better 
Help
In My Life 
Helter Skelter 
Hey Jude
Run For Your Life 
Back In the USSR 
It's Only Love 
I'm Looking Through You 
I've Just Seen a Face
Tell Me What You See 
What You're Doing 
PS I Love You
We Can Work It Out
From Me To You

BLACK EYED PEAS—
Got A Feeling

CHUCK BERRY-- 
Roll Over Beethoven
Johnny B. Goode
Sweet Little 16

JACKSON BROWNE--
Somebody's Baby

THE BYRDS-- 
Mr. Tambourine Man 
Eight Miles High
Feel A Whole Lot Better

THE CARS-- 
Just What I Needed
My Best Friend's Girl 
Tonight She Comes

THE CAVALIERS-- 
Last Kiss

CCR-- 
Bad Moon Rising 
Have You Ever Seen The Rain 
Down On The Corner

CHEAP TRICK--
I Want You To Want Me

EDDIE COCHRAN-- 
20 Flight Rock

CONCRETE BLONDE
Joey

THE CURE-- 
Friday I'm In Love 
Just Like Heaven

MILEY CYRUS—
We Can't Stop
Party In The USA

JOHN DENVER-- 
Country Roads

DONOVAN-- 
Mellow Yellow 
Hurdy Gurdy Man 
Sunshine Superman 
Catch The Wind

THE DOORS-- 
Light My Fire 
Hello I Love You 
Alabama Song

BOB DYLAN-- 
Knocking On Heaven's Door 
Subterranean Homesick Blues

THE EVERLY BROTHERS-- 
Dream

FLICKERSTICK-- 
Chloroform 
Coke
You're So Hollywood
Beautiful

BUDDY HOLLY-- 
Peggy Sue 
Words Of Love
Rave On 
Oh Boy 
Everyday

THE ISLEY BROTHERS-- 
Shout

BEN E. KING-- 
Stand By Me

THE KINKS-- 
All Day And All Of The Night
You Really Got Me

THE KNACK -–
My Sharona 
Good Girls Don't

THE LA'S-- 
There She Goes

LADY GAGA--
Paparazzi

LED ZEPPELIN--
D'yer M'ker
Tangerine

THE LEMONHEADS-- 
Into Your Arms 

LOCAL H-- 
Bound For The Floor
Keep Your Girlfriend 
Eddie Vedder
Rock And Roll Professionals
Manipulator 
Scott Rock
Halcyon Days
Hello Everyone
Feed

MARCY PLAYGROUND-- 
Sex And Candy

THE MARVELETTES-- 
Please Mr. Postman

MAZZY STAR--
Fade Into You

RODGER MILLER—
King of the Road

NENA-- 
99 Red Balloons

MST3K THEME SONG

NIRVANA-- 
About A Girl
Lithium
Drain You
Lounge Act 
Smells Like Teen Spirit 
Come As You Are
Dumb
Polly
Something In The Way 
Sliver

OASIS-- 
Wonderwall
Don't Look Back In Anger

ROY ORBISON--
Pretty Woman 
You Got It
In Dreams
Crying
Love Hurts

THE PENGUINS-- 
Earth Angel

TOM PETTY-- 
American Girl 
Learning To Fly 
Won't Back Down 
Yer So Bad 
Need To Know

KATY PERRY—
Hot and Cold

PINK FLOYD-- 
Wish You Were Here 
Bike 

THE PIXIES-- 
Gigantic 
Gouge Away
Caribou
Levitate Me
Where Is My Mind?
Here Comes Your Man 
Debaser
Tame
Manta Ray
Monkey Gone To Heaven
Something Against You
Wave Of Mutilation

ELVIS PRESLEY-- 
Blue Suede Shoes

RADIOHEAD-- 
Creep 
Fake Plastic Trees 
Karma Police
In My Head
Thinking About You

RAMONES-- 
Blitzkrieg Bop 
I Wanna Be Sedated

REM-- 
It's The End Of The World As We Know It
Man On The Moon 
Rockville
The One I Love 
Stand 
Losing My Religion 
What's The Frequency Kenneth?
Radio Free Europe
Pretty Persuasion
So. Central Rain
Green Grow The Rushes
Wendell Gee
Maps And Legends
Fall On Me
Superman
Orange Crush
Imitation Of Life
Bad Day
The Great Beyond

REO SPEEDWAGON—
Take It On the Run

ROLLING STONES-- 
Under My Thumb

THE ROMANTICS-- 
What I Like About You

LINDA SCOTT-- 
Every Little Star

THE SHONDELLES-- 
Crimson And Clover

SIMON & GARFUNKEL-- 
Mrs. Robinson 
Sounds of Silence

NANCY SINATRA-- 
These Boots

SMASHING PUMPKINS-- 
Today 
1979

BRITNEY SPEARS—
Baby One More Time 
Toxic

DUSTY SPRINGFIELD-- 
I Only Wanna Be With You

RICK SPRINGFIELD – 
Jessie's Girl 

TEAGAN AND SARA—
Closer

TOMMY TUTONE-- 
867-5309

THE TRASHMEN-- 
Surfin' Bird

U2-- 
With Or Without You

RICHIE VALENS-- 
La Bamba

VAN MORRISON-- 
Brown Eye Girl
Gloria

THE VASELINES-- 
Molly's Lips 
Son Of A Gun

THE VELVET UNDERGROUND-- 
There She Goes Again 
Waiting For The Man 
White Light White Heat 
Here She Comes Now

VIOLENT FEMMES-- 
Blister In The Sun 
Gone Daddy Gone

WHEATUS-- 
Teenage Dirtbag

HANK WILLIAMS SR.-- 
Hey Good Lookin' 
Jambalaya 
Move It On Over

THE WIPERS--
Telepathic Love
D-7
Return of the Rat
Window Shop For Love
Potential Suicide

THE WONDERS-- 
That Thing You Do

JOHNNY WRIGHT—
Hello Vietnam

THE YARDBIRDS-- 
The Train Kept A Rollin' 
For Your Love 
Good Morning Little Schoolgirl